The Taming of the Jew
Funnier than ever, scarier than ever, Tuvia Tenenbom, the artistic director of The Jewish Theater of New York, is here again with The Taming of the Jew.

It all happens when Tuvia shows up in Her Majesty's land, pretending to be anything but a Jew, and takes on its inhabitants, regardless of religion, race, ethnicity, smell, sex, gender, color, height, girth, or animal species.

Traveling through the four nations that make up the Kingdom -- Northern Ireland, Scotland, England, Wales -- he visits many places and interviews people all around the United Kingdom. If you look for him, you can find him napping in Winston Churchill's room, sleeping on Hillary Clinton's bed, playing cat and mouse with Jeremy Corbyn, smoking forbidden tobacco with Nigel Farage, eating a monster, and stalking a she-ghost. Yeah.

As you might expect, he asks the Island people easy, simple questions: What does "Brexit" mean? At precisely what age have you realized that you hate Jews?

The Islanders, creatures well-groomed and well-mannered, take their time to politely and earnestly answer any and each of Tuvia's questions. Oh Lord, the answers they give!

The Taming of the Jew also incorporates interviews with British Jews, subjects well tamed to always and forever protect the excellent reputation of their non-Jewish torturers.

Written by an author who is both an investigative journalist and a dramatist, The Taming of the Jew masterfully intertwines highly entertaining stories with shockingly brutal facts, affecting you in ways you've never thought mere words could.
• • •
"An accurate picture of reality, more accurate than BBC and CNN."
Lidové Noviny
• • •
"Tuvia Tenenbom has courage, a great mind, and a sharp pen, and he tears apart the mask of hypocrisy behind today's fake news."
Benny Ziffer, Culture & Literature editor, Haaretz
• • •
"Tuvia Tenenbom revealed the hidden anti-Semitism of many people around the world, and now in the UK. His book is funny and sad at the same time, and without a doubt, interesting."
The legendary Israeli journalist Ya'akov Ahimeir, as quoted in Makor Rishon.
• • •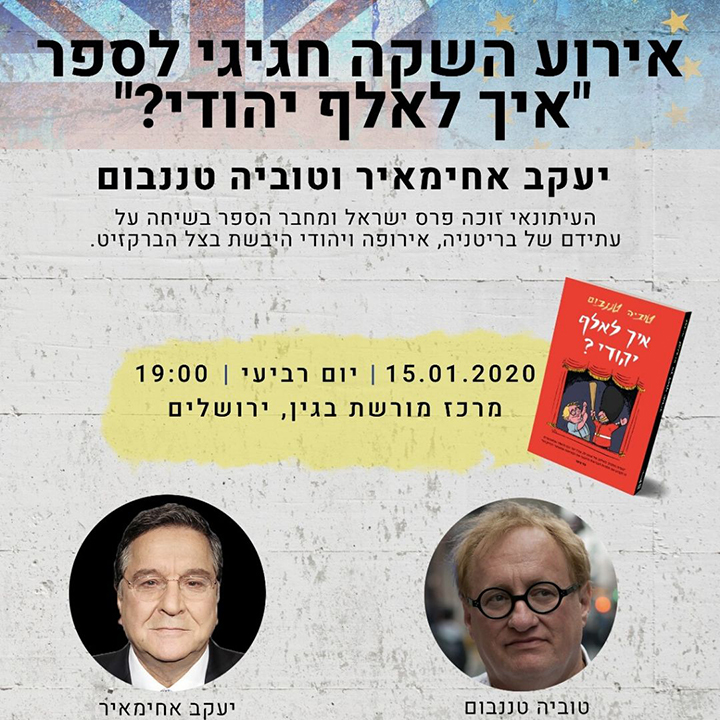 The launch of THE TAMING OF THE JEW in Hebrew will take place at the Begin Center in Jerusalem on January 15, 2020. Featuruing: Ya'akov Ahimeir and Tuvia Tenenbom. Free entrance.
• • •
THE TAMING OF THE JEW is scheduled to come out in English in mid-2020, to be followed by stage presentations in New York and elsewhere in the USA.

THE TAMING OF THE JEW was commissioned by Suhrkamp Verlag in Berlin, under the title ALLEIN UNTER BRITEN.